A Permanent Vacation: The Pros and Cons of Living Near the Beach | Home Sales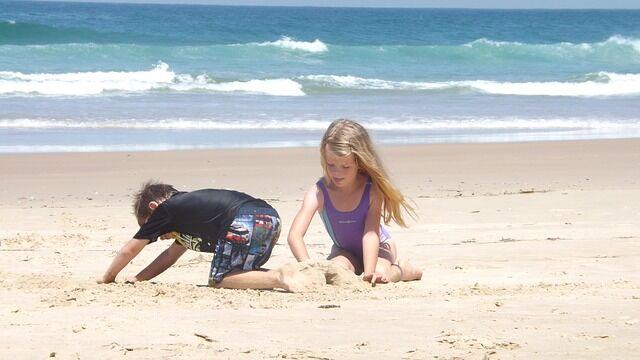 Few things are as inviting or relaxing as seaside living. Who doesn't enjoy living in a home within walking distance of a beautiful beach and glorious ocean view? Those are just a couple of reasons why thousands of people buy beachside homes for year-round living and rent seaside houses for vacations. 
While the advantages of the beachside lifestyle are plentiful, there are some downsides. For instance, maintenance can be challenging; erosion may be a problem and unique weather issues. The key to enjoying a seaside home is to weigh the pros and cons before buying property. For many people, the advantages far outweigh any potential problems.
Pros of Beachside Living
1. A Healthy Lifestyle
Retirees often invest in seaside homes after years of daydreaming about trading stressful lifestyles for life near the beach. Many younger people who want a healthier lifestyle move from urban areas and choose the laid-back waterfront lifestyle. Studies show that residents in coastal regions enjoy better overall mental and physical health. 
The lifestyle is healthier because walking on beaches, swimming, and enjoying other outdoor activities provides exercise, plenty of fresh air, and healthy doses of sunshine. Salty sea air also has negative ions that help the lungs absorb oxygen and promote positive moods. 
Every year, hundreds of house hunters looking for a relaxed, healthy lifestyle search the Internet to locate coastal properties to rent or buy. For example, over at Great Point Properties, visitors can find dozens of Nantucket homes that combine charm and history with the advantages of a vibrant outdoor lifestyle.
2. Access to Superb Seafood 
Seafood lovers in most of the U.S. settle for fish, oysters, clams, lobster, and crabs that have been flown or trucked in. However, coastal dwellers enjoy meals that include fresh, healthy, local seafood. 
Many waterfront restaurants near the beach offer an excellent, breezy atmosphere and dishes that promote good health. For instance, the omega-3 fatty acids in seafood encourage brain cell growth. 
3. Unique Bars and Pubs 
Most coastal towns enjoy a brisk tourist trade, so they include plenty of exciting pubs and nightspots that attract visitors looking to unwind in the evenings. Year-round residents also have their pick of quaint, cozy pubs and flashy, fun bars. 
4. Festivals and Local Events
Beachside towns typically organize festivals and events that attract tourists. A lot of the entertainment lasts all year, so permanent residents always have their choice of activities. 
Communities often host wine and beer tastings, music festivals, and art shows. Seaside communities frequently include start-up local bands that provide all types of music. 
5. Amazing Sunrises and Sunsets 
Watching the dawn is impressive anywhere, but nothing quite as remarkable as seeing the sunrise over the ocean. Living in a coastal home makes it possible to enjoy spectacular sunrises nearly every day. Seaside living also makes it easy to take a walk on the beach at dawn, which is one of life's great pleasures. 
Coastal sunsets rival the sunrises in beauty. Residents can often watch from porches and decks as the sky shifts from gold to shades of orange and then seems to dip into the sea. It's an experience that is hard to match in urban areas where buildings block the views. 
6. Easy Access to Water Sports
Many people who enjoy watersports buy or rent homes near the beach. Those who like boating can find houses with docks in their backyards. Coastal communities usually include businesses that cater to clients who want to rent jet skis, go parasailing, or enjoy scuba diving. Residents and visitors can rent sailboats or motorboats and spend their days on the water, fishing, sunning, or exploring the local area.
But, beachside residents don't always need to spend money to enjoy healthy water activities. They have the ideal swimming environment right outside their door. According to the CDC, swimming is the fourth most popular sport in the U.S., and it has incredible health benefits. Swimmers can exercise much longer in the water than they would on land, which provides critical heart-healthy benefits.
7. A Beach House Can Be a Good Investment 
Not only does owning a coastal home provide the ideal vacation spot, but it can also have financial benefits. Houses often have excellent resale value and are often used to generate income. 
Per Investopedia, owners who rent seaside homes they are not using can generate a steady income stream. For example, owners of Florida beach homes often use them for a few weeks each season and then rent them during the tourist season. The income they receive from November through April can potentially cover the cost of ownership for the entire year. They live in their homes for free in the off-season.
8. Enjoy the Coastal Community 
Unlike bustling cities, seaside areas typically consist of small towns where most locals know each other and participate in community activities. That makes it easier to form social connections and begin relationships. 
Visitors to coastal areas often find that locals are happy to chat about anything from the weather to upcoming festivals and events. Most rooms are designed to be walkable, so residents can get fresh air and exercise as they enjoy socializing with others. 
Cons of Living Near the Beach
1. A Lack of Privacy
Some of the most beautiful and sought-after coastal communities attract thousands of tourists each year, making it difficult for those who want a quiet, secluded getaway. Fortunately, most areas include at least a few quiet neighborhoods tucked away among the more lively communities. 
2. The Weather Can Be Tricky 
Coastal towns generally have fine weather for much of each season. Residents and tourists can enjoy sun and sea breezes for several months each year. 
But, seaside towns can also be susceptible to natural disasters and flooding. They are often in the path of destructive hurricanes, and they can rain for days at a time in tropical regions. Flooding may cause thousands of dollars in damage. 
3. Maintenance May Be Expensive 
The same salty sea air that makes seaside living so much fun can destroy homes and other property. Salt has a corrosive effect that will damage home finishes, electronics, vehicles, and furniture. Routine flooding can also damage property. 
Home insurance is often more expensive for coastal homes, cutting into profits generated by investment properties. Although the advantages of owning a coastal home typically outweigh the problems, buyers should calculate the costs of insurance and maintenance before committing. 
4. The Mold Problem 
The humidity is much higher near the coast, making homes the ideal hosts for mold and mildew. Left unchecked, mold will do severe damage to structures and belongings. It can also lead to health problems. 
House hunters who want to buy a beach house should schedule a mold inspection and then arrange to have mold remediation specialists treat the home before anyone moves in. It is also essential that the HVAC unit is working correctly since it helps control humidity.
5. Pest Control Problems 
Many people who buy seaside homes are surprised at the number of pests that try to invade their homes. The issue is prevalent in warm areas. Humidity and warmth create the perfect atmosphere for bugs and rodents to thrive. 
Sand and water attract pests, and food stored in homes provides all they need to thrive. Without intervention, a beach retreat can quickly become a haven for mosquitoes, a range of other bugs, and rodents. 
Fortunately, it is possible to prevent or control the problem. Homes can be sealed to avoid pest access, and it is essential to trim vegetation close to the house. Owners need to remove clutter that could become a pest home, and storing food in airtight containers is crucial. 
6. The Erosion Issue 
Over time, wind, water, and storms can remove sand and soil near coastal homes, a process called erosion. The process usually takes years to make a noticeable difference, but significant events, like hurricanes, can cause immediate and significant decline. Anyone considering investing in a coastal home needs to be aware of erosion and its impact on waterfront property.
Coastal homes include seawalls that help control erosion. It is essential that sea walls are well-maintained, so homeowners should inspect them often and definitely before buying a house. It is necessary to be on the lookout for overgrown vegetation that could impact the seawall's integrity. Plant roots can crack seawalls, which is a problem that is expensive to fix. 
Buyers looking at coastal homes should make sure seawall weep holes are not clogged up since these openings relieve water pressure. It is also a good idea to look for signs of termite damage, rot, and cracks. 
There are significant benefits associated with coastal living. They include a healthy lifestyle, access to water sports, fresh seafood, and friendly communities that feature entertaining activities. Coastal homes can be excellent investments. There are also a few downsides to life at the beach. The weather may be unpredictable, pests might be an issue, and beachfront erosion could cause problems. Also, privacy can be hard to find, homes require quite a bit of maintenance, and humidity could lead to mold problems.